Get A Full Day of Hydrovac Service – We'll Pay the First Hour – Coupon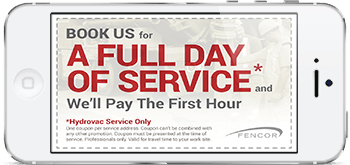 When you book hydro excavation from Fencor, your contract runs from the moment our trucks leave the shop to the time they return after the job.
There's a really easy way to cut down on the cost of our service if you're trying to make some extra space in your budget.
Fill in the form on this page and book us for a full day of service. Print off the coupon or show it to us on your smart phone. We'll knock off the cost of travel to your job site in the morning.
This saves our customers an average of 10%. Don't let them get a better deal than you. Fill in the form now!